Riding a footbike is an enjoyable activity that's also incredibly simple and beneficial for your health. It doesn't matter how old or fit you are, anyone can ride a footbike at any time and any place, whether you're alone, with a friend, in a group, or even with your dog. Additionally, footbiking is a unique and exciting way to stay active and explore your environment.
A footbike is essentially a type of scooter that resembles the ones we used to ride as kids. It consists of two wheels connected by a deck, along with handlebars and hand brakes.
The term "footbike" is derived from the resemblance to both a bicycle and a scooter. It is also known as a kick scooter, kick bike, or scooter bike. Footbiking is a competitive sport with organized events.
Simplicity, reliability, low maintenance
Riding a footbike is similar to walking and suitable for all ages and fitness levels.
Riding a footbike is hassle-free, as it requires minimal maintenance. With no pedals, chain or transmission, there are no issues to worry about.
Just push off … and you're off
We all rode scooters as kids; the footbike is its bigger sibling.
Footbiking is easy and almost impossible to do wrong. Simply hold the handlebars, put one foot on the deck and push off with the other. Alternate your legs to avoid overloading. The platform is wide and long enough.
Relax, fun, fitness, transport & health
Here are some great reasons why a footbike may be perfect for you:

– You can ride around your suburb or village to relieve back pain from sitting at a computer all day.

– Small shopping trips or accompanying your child while they learn to bike

– Weekend trips with your family or friends

– Improving your fitness level or balancing your workout routine

– Returning to an active lifestyle after an injury

– Racing

– Having fun with your dog Get a footbike today and start enjoying these benefits!
READY UNDER ALL CIRCUMSTANCES
Footbike maintenance is easy. Fewer parts mean fewer problems. You don't need any special skills to keep your footbike in good condition and ready for your next ride.
No special clothing or footwear is needed for footbike riding. Comfortable sportswear is preferred, but you can ride in your regular clothes too.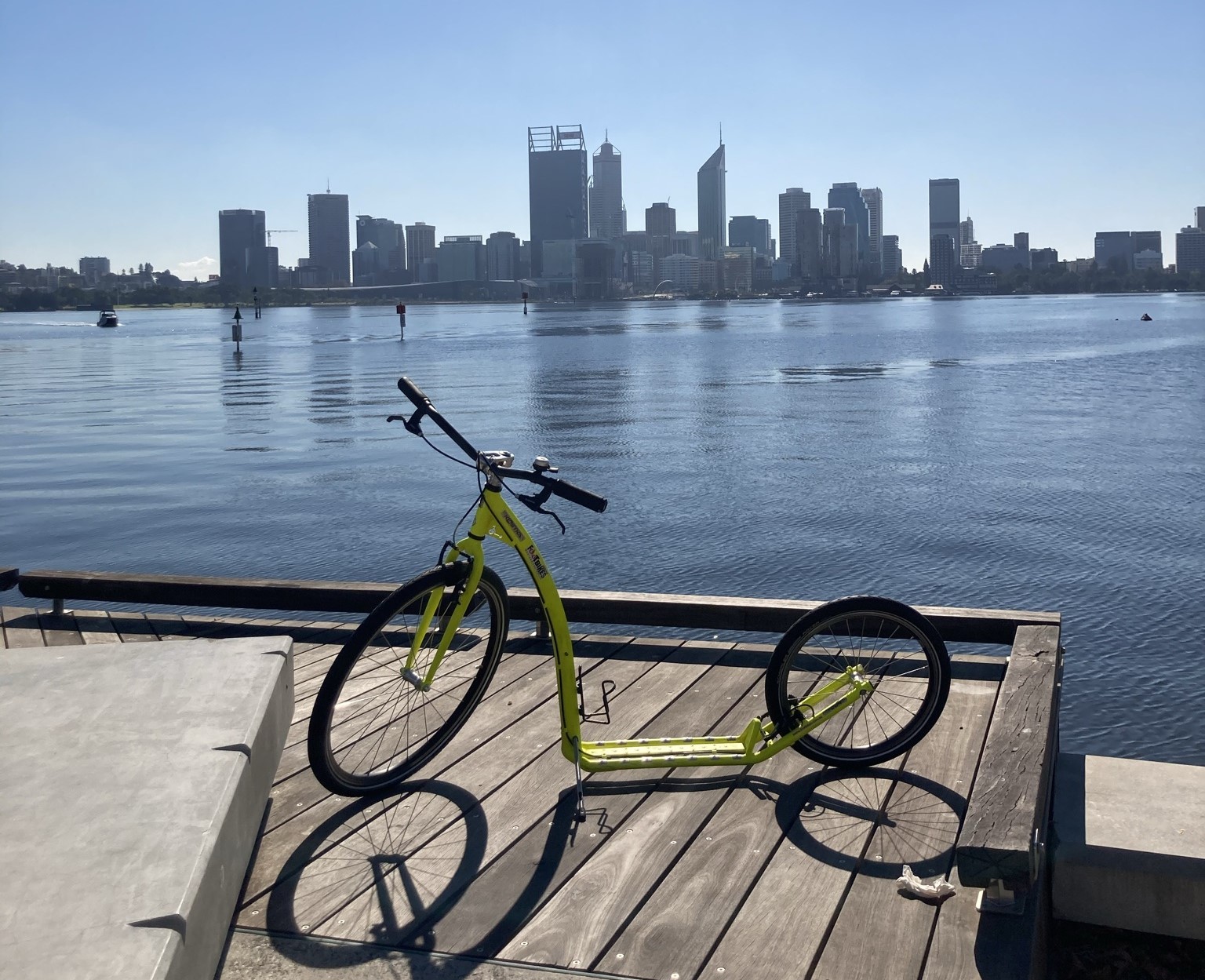 Literally everyone can enjoy it, as long as they maintain balance and use the brakes.
NO AGE OR FITNESS LIMITATION
Unlike running, footbiking is not too demanding in terms of technique, making it accessible to those who cannot or do not enjoy running. Additionally, for people who are afraid of cycling, footbiking is a safe and enjoyable alternative. In general, anyone who can maintain balance and operate the brakes can ride a footbike..
If you want to be more active, a footbike can be a great way to move around. It's a sport that can benefit both seasoned athletes and those who are just starting to lead a more active lifestyle. By keeping yourself moving, you'll have more energy for life.
FOOTBIKING IS AN EXCELLENT SPORT FOR SENIOR
Riding the footbike will keep the elderly people moving. If there is not much energy or certainty left for other kinds of sports activity, the footbike is still there. The combination of a low-located platform and wide handlebars will make feel everyone safe.
Footbiking improves coordination and therefore motor skills which is something that people at a certain age are slowly losing. The fact that the rider must alternate between the right and left legs means that he trains the connection between the left and right hemispheres of the brain, which contributes to improved memory, concentration and cognitive function. In addition to that, footbiking also helps to "lubricate" and exercise joints and improve your circulation.
A FOOTBIKE WILL GET A CHILD OFF THE COUCH
Riding a footbike is a fun kind of active, free movement. A scooter is usually the first vehicle, small kids learn to ride. Why do not continue with the activity when the kid is a little older?
ADVENTUROUS PEOPLE CAN TRY NEW LIMITS
Do you like challenges? Then try where the footbike's limits are! Every terrain you can ride on the bicycle you can ride on the footbike too. Maybe you will push the footbike up to the hill more, but you will be faster when speeding down. And pushing is the natural part of footbiking.
Or do you like long-distance adventures? No problem for footbike too. Read about George's adventure.
There are many reasons why ride a footbike. Footbike is everything: a piece of universal fitness equipment, a physical health improvement helper, a kind of ecological transport and last but not least a great fun and a source of good mental health.
HEALTH ON TWO WHEELS
Riding a footbike is a form of physical activity that offers numerous health benefits. It provides a complete workout for the entire body unlike any other activity. It strengthens and tones the body in a balanced way without causing any adverse effects.
Footbike riding is a natural way of exercising as it stretches the body even during a leisurely ride. It's a great way to burn fat and build muscles.
FOOTBIKING VERSUS WALKING, RUNNING & CYCLING
Walking is slow and running is not for everybody. Riding a bike loads the body unevenly. If you sit in front of a computer all day, you won't feel like sitting on a bike.
RIDING A FOOTBIKE IS ENVIRONMENTALLY FRIENDLY
Do you need to buy a few things? Are you going to the gym which is just a few hundred meters away? Or is it time to pick up your kids from school and you don't want to fight for a parking spot?
With a footbike, you can easily make all these small movements. You can stop at the playground to please your kids, warm up your muscles and jump straight into training.
Driving your car harms our beautiful planet. But even small actions can protect it.
WHERE TO RIDE
Australia has beautiful cycle paths along the cost and in every town, perfect for footbiking enthusiasists.
Footbikes can take you everywhere the roads lead, and the world is full of diverse trails waiting to be explored. You don't need any special facilities, and every footbike can handle smooth roads, dry bush, and field track without changing the tyres. 
WHEN TO RIDE
Anytime!
Footbiking is a year-round activity in Australia, simply add mudguards in wet weather.