What footbike is the most suitable for your mushing?
Literally every footbike, scooter bike, kick scooter or whatever you call the scooter with large wheels is suitable for mushing.  So, give the dog footbiking a go! Treat yourself and your best furry friend plenty of exercise in the fresh air. You and your dog will appreciate the benefits of this wonderful sport for your health and good mood.
But, not sure what model to purchase for your intended purposes? Don't you want to spend crazy money on it to begin with because you are not sure if you and your dog will like and use it? Don't have enough space to store a big scooter? Are you thinking of exercising your dog mostly in urban areas or just a little off-road?
If you are asking yourself these questions, this article is just for you!
Very often we face the question of what footbike to purchase for your dog. The first, what most of our customers consider is to purchase one of our special mushing footbikes. It makes sense. The word "mushing" in the title is clear enough and call for action. But it is not necessary to have the best mushing model to enjoy this amazing sport.  Footbikes WA offers many more models that can be adapted for leisure or even competitive mushing and that will make both you and your dog happy.
Before you purchase the footbike ask yourself the following questions:
What kind of terrain will I ride on the most?
How often am I going to ride so I get the best value for my money?
How many dogs will I ride with at once?
What breed(s) do I have?
How well trained are my dogs?
If your answers are: I will ride the harsh off-road, I'm going to ride every other day, I have two strong dogs and they are perfectly trained, or I am going to race with them, just go with the best mushing models such as MUSHING PRO and MAX, or MUSHING RACER MAX and you will get the value for your money. But if your answers are somewhere in between, check our other options too.
Let's look in detail at what kind of mushing are our models suitable for.
Models with suspension – MUSHING MAX and MUSHING PRO
Typical:
terrain: very off-road with rocks, holes or deep puddles where you need suspension to compensate for terrain irregularities,
breeds: strong large breeds such as Huskies, Malamutes, Rhodesian ridgebacks,
number of dogs: 1 or 2,
experience: well-trained (racing experiences, the dog is always pulling and doesn't need a rider's help).
MUSHING MAX and MUSHING PRO are suitable for riding with dogs off-road, and for downhill speeding in terrain or riding down single tracks. They are not design for kicking without a dog's support. The platform is high above the ground, and the footbike itself is massive and heavier to master fast driving in rough terrain. The standing platform is also wider, and you can stand comfortably with both feet on it. These models are equipped with quality hydraulic disc brakes that will bring the largest dogs to a halt even at top speed.
If you look for a scooter for mushing only, these are your choice.
Mushing models without suspension – MUSHING RACER MAX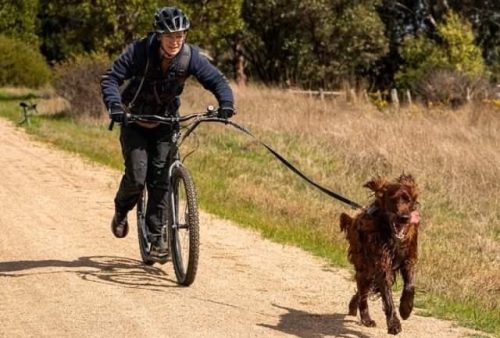 Typical:
terrain: off-road without deep holes or big rocks,
breeds: strong big breeds such as Huskies, Malamutes,
number of dogs: 1 or 2,
experience: medium to high (the dog is mostly pulling, needs the help just occasionally).
MUSHING RACER MAX is one of the most universal footbike you can choose. The footbike is suitable for both, mushing and personal use. Large wheels make the footbike more stable, and quality hydraulic disc brakes safer. The platform is a little higher than the casual models but not so high that you cannot use the model for your personal use and fitness activities. If you do not believe that the Mushing Racer Max footbike is suitable for off-road riding, read the article about George's The Munda Biddi Trail adventure in 2021.
The MUSHING RACER MAX is a perfect choice if you want to get a top mushing footbike and an excellent footbike for your own outdoor adventures at the same time. 
Common models adapted for riding with a dog 
(and the foldable version of TOUR MAX and TWENTY MAX)
Typical:
terrain: solid roads and cycle paths, gravel roads, grass roads, urban areas, up to moderate terrain,
breeds: small, medium, and large breeds,
number of dogs: 1,
experience: from beginners.
Almost none of us can run fast and long enough to keep our dogs happy, but with a footbike, you can easily achieve that. If you want to give your dog excellent exercise, but you don't mean to race with him regularly, and you won't be riding in rough terrain, choose one of the common models and adapt it to be suitable for dogs. The uses for these models are endless. Say, for a small breed, you can equip the footbike with a basket and let the puppy rest when he is tired. Medium or large breeds will appreciate having a good run and you will keep them in excellent condition.  The biggest advantage is that you can also use these models for your quality personal fitness training, for fun on family footbike trips or for shopping, if your to-buy list is not too long. You will appreciate the benefits of footbiking for your body and mind. 
Transform the common models into mushing ones is an easy do-it-yourself job. You will find the all attachments and accessories in our e-shop. What you need to convert your footbike to the mushing one?
flexible adapter to attach a dog leash
flexible leash
spacing ring (optional)
off-road tyres (optional)
The basic thing you need is an adapter for attaching the dog leash. The kind of leash is also important. It is not recommended to use the normal leash for your and your dog's safety. You will appreciate the features of the flexible leash once your dog starts pulling because the elastic part dampens the traction shock.
If you're thinking of exercising your dog more off-road, you might appreciate a spacing ring. By adding it, you will raise the front part of the standing platform by a few centimetres. Eventually, you can also exchange the urban tyres for the off-road ones.
Special models – RAPTOR MAX, MONSTER MAX

Typical:
terrain: soft ground, off-road,
breeds: strong large breeds such as Huskies, Malamutes, Rhodesian ridgebacks, GSP,
number of dogs: 1 or 2,
experience: medium to high (the dog is mostly pulling, needs the help just occasionally).
Our special fat tyres footbikes are intended mainly for those, who love riding in soft terrain. If you deflate your tyres enough, you can enjoy rides on endless Australian beaches. Deflated tyres also work well instead of suspension in rougher terrain. However, if you inflate them properly, the footbike also perfectly sits on sealed roads. These models are suitable for strong breeds or two dogs but even though the platform is a little higher than other normal footbikes, you can still kick it without your dog's support and enjoy the ride on your own.
The RAPTOR MAX and the MONSTER MAX differ mainly in the overall size. The MONSTER MAX is a massive footbike suitable for strong, taller riders, while the RAPTOR MAX is smaller and more delicate.
If you look for something special and solid, this is the must for you. 
Still not sure which one is the best for you? Don't worry and give us a call or write us the email. 
Rebel Max
Tour Max
Mushing Max
Tour Max
Mushing PRO
Tour Max

Tour Max
Tour Max